F&B and Ho.Re.Ca.
Sectorial Thematic Club Deal
4 piani fuori terra, con una superficie totale di circa 2.000 mq
4 piani fuori terra, con una superficie totale di circa 2.000 mq
4 piani fuori terra, con una superficie totale di circa 2.000 mq
4 piani fuori terra, con una superficie totale di circa 2.000 mq
The F&B and Ho.Re.Ca. Sector
The acronyms F&B (Food & Beverage) and Ho.Re.Ca. (Hotels, Restaurants and Café) encompass a vast and complex world, consisting of diverse yet interconnected entities, including hospitality establishments, restaurants, cafés and other businesses related to the consumption of food and beverages and the hospitality industry. They encompass all activities related to out-of-home consumption, also known as AFH (away from home) consumption. These activities are carried out by medium, small and micro enterprises. In Italy, there are approximately 405,000 companies in the bar and restaurant sector, along with an additional 4,000 companies in the F&B distribution sector (integral parts of the supply chain). In terms of the hospitality sector, there were 32,202 hotels and nearly 195,000 non-hotel accommodations in 2020.
Despite the challenging years caused by the Covid-19 pandemic, according to the latest edition of the International HoReCa Meeting by Italgrob (2022), a significant rebound is expected in this category. Market analysts indicate that the sector exhibits low volatility and offers attractive long-term returns. Therefore, WeInvest presents its dedicated Sectorial Thematic Club Deal for F&B and HoReCa.
The Ho.Re.Ca. sector encompasses a highly complex world that includes a wide range of activities such as restaurants, bars, hotels, catering services, kiosks and more. It covers any commercial offering of food and beverages, including places like hospitals and schools. The term also serves to distinguish away-from-home consumption (AFH) from the organized retail sector (GDO), which includes supermarkets, hypermarkets and similar establishments. Within the F&B and HoReCa sector, we can identify 5 main areas, each containing multiple Business Model:
Hospitality

Hotel

Residences

B&B establishments

Resorts

Camping sites

Hostels

Motels

Farm stays

Vacation Homes

Food Service

Restaurants

Pizzerias
Sandwich shop and Piadinerias

Pubs

Trattorias

Osterias

Fast-food Restaurants

Self-Service establishments

Catering Services

Institutional Catering (schools, hospitals, barracks, prisions)
Home Delivery

Bara

Cafés

Breweries

Wine Bars

Ice Cream Parlours

Lounge Bars

American Bars

Tavola Calda (hot table)

Bistrots

Pastry shops




Food & Beverage Distributors
In an increasingly service-oriented society, this sector is gaining greater economic and social importance. Despite the pandemic that severely affected the entire economy in the years 2020-2021, the sector has consistently shown continuous evolution and expansion. Given its vastness and the diversity of businesses and activities it encompasses, it offers significant investment opportunities, providing investors with high potential to diversify their portfolios. In general, the F&B and Ho.Re.Ca. sector is considered cyclical as it is influenced by the overall economic trends, and dynamic due to the impact of Digital Transformation, which has led to the emergence of new entities.
Before making an investment in the Ho.Re.Ca. sector, it is important to consider that it is a highly competitive industry, mainly characterised by the presence of small and medium-sized enterprises. The sector, in general, is particularly influenced by macro factors of a PEST nature (political, economic, social, technological), including:
Covid-19 pandemic, as experienced in the years 2020-2021, the sector faced a complete global shutdown. This highlights how sensitive the market sector is to socio-health phenomena that can significantly impact its performance;
Sector interdependance, Being closely connected to other market sectors, any type of event (such as the Russo-Ukrainian conflict leading to energy price hikes, shortages of certain raw materials, mobility restrictions, etc.), even if occurring in a different sector (e.g., transportation sector, energy sector, etc.), directly affects the Ho.Re.Ca. sector and influences its trajectory;
Environmental responsibility, there are a series of strict legislative requirements that impose environmental norms on businesses operating in this sector to limit their impact on the environment and ensure high levels of sustainability.
There are several market trends emerging in the F&B and Ho.Re.Ca. sector, many of which are driven by the digital transformation of the country. Here are the main ones:
Food Life Style - Soul Food, this refers to the traditional cuisine of the African-American community that originated in the 1960s. It has become a popular trend today due to the simplicity of the dishes and their low environmental impact, achieved through the use of local ingredients, preferably sourced locally.;
Traceability, this is crucial for providing consumers with greater guarantees regarding the origin and quality of food products. It is now facilitated by technologies such as blockchain, which enables restaurants and other stakeholders in the Ho.Re.Ca. sector to provide real-time, precise information to their customers while also monitoring the proper management of products throughout the supply chain;
Open Air Hospitality, this refers to outdoor hospitality, with the Glamping segment experiencing significant growth in recent years, especially among investors from Northern Europe;
Smart Hotels, these are innovative accommodation facilities that integrate technological tools such as apps or hotel management systems to enhance the user experience for guests and streamline the management of the property;
Food Delivery Apps, this involves the home delivery of food and is now driven by new technologies that improve delivery times and offer a wider variety of options;
Bleisure, this term refers to a trip that combines business and leisure, focusing on exploration and knowledge;
Workaction, this is a new travel trend that combines work and leisure, allowing individuals to work remotely from a vacation destination.

Revenue Trends (in Billion of €)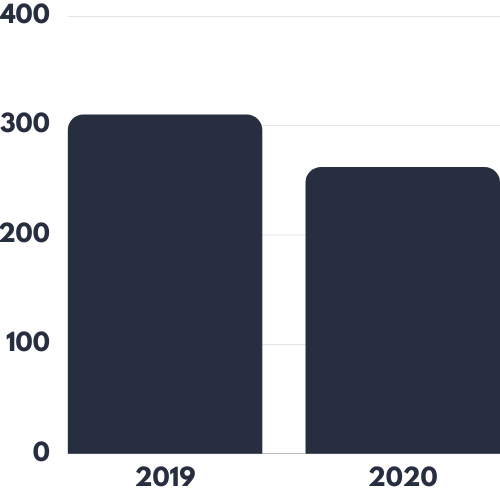 Contribution % to GDP (Italy, 2021)